According to Eurostat research 1 out of 4 internet users in the EU experienced computer security related problems in 2015, but the Irish were safer.
The Safer Internet Day and Eurostat has released their research on the Europeans' Internet security. According to Eurostat "the proportion of internet users having experienced certain common security issues over the internet – such as viruses affecting devices, abuse of personal information, financial losses or children accessing inappropriate websites – stood at 25% in 2015."
Ireland has taken the excellent fourth place, just after Czech Republic (10%), Netherlands (11%) and Slovakia (13%), with only 14% of internet users having experienced security-related issues, while the worst performing was Croatia, where a staggering 42% have been infected by malware or suffered some other online calamity.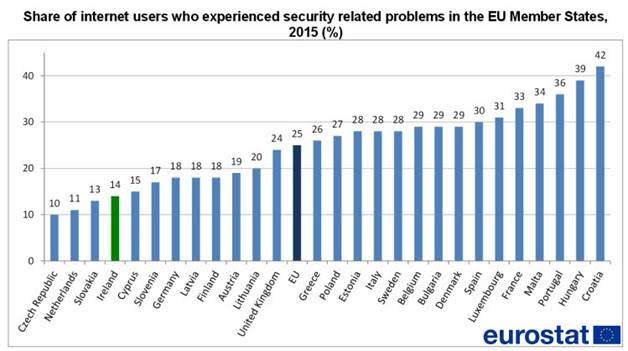 Compared with 2010, the share of internet users who caught a virus or other computer infection resulting in loss of information or time dropped in all Member States by 2015, except Croatia. The most remarkable fall was observed in Slovakia from 47% in 2010 to 9% in 2015, or a decrease by 38% which is a particularly interesting statistic for us at ESET, since ESET's HQ is in Slovakia and ESET antivirus and security products have been steadily increasing their market share there (but we're not claiming there's correlation between the two).
At EU level, the proportion of internet users having caught a virus online decreased by 10%, from almost a third (31%) in 2010 to about a fifth (21%) in 2015. Statistical research done in the past shows that malware infections are also closely related to the use of pirated software, so additional research could show if piracy levels in EU have had any effect on the EU-wide malware infection decrease.
Eurostat's research also found that at EU level security concerns discouraged users from certain activities. 19% of Europeans refrained from online shopping, 18% refused to bank online and 13% didn't want to use WiFi on their mobile device outside of their home.
Overall, it would appear things are improving somewhat, at least on the malware front (while the privacy and social engineering side of things still leaves much to be desired, so you may want to see our top tips for staying safe on Facebook). And on that note ESET Ireland wishes you a safe and fun Safer Internet Day!
[su_box title="About ESET Ireland" style="noise" box_color="#0e0d0d"]
ESET Ireland will keep your hardware and software performing as it should. The company has hundreds of people around the world working hard every day so customers' computers, tablets, smartphones and servers are properly protected. All with minimal impact on their performance.[/su_box]